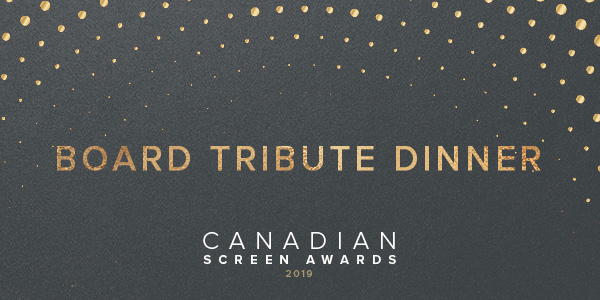 The Academy's Board Tribute Dinner is an annual fundraising event honouring the year's esteemed Special Awards recipients, taking place on the evening prior to the Canadian Screen Awards Broadcast Gala.
Funds raised by the Board Tribute Dinner facilitate the continued growth of Academy programming, including year-round professional development events for its members, programs which provide mentorship to emerging and under-represented creative voices, and increased engagement of the public with Canadian content.
If you share in the Academy's goal of nurturing the future of the Canadian Screen industry, consider joining showing your support by joining in this intimate celebration of Canadian icons.
March 30, 2019
The Four Seasons Hotel, Toronto
Cocktails at 7PM, Dinner at 8PM
Cocktail Attire